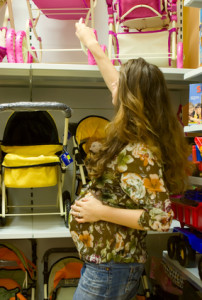 From cribs and co-sleepers to car seats and strollers, soon-to-be-mothers face an endless "must-have" shopping list. Newborn necessities do not come cheaply. The average middle class family will spend approximately $12,000 on child-related expenses in their baby's first year of life. Having a newborn, however, doesn't have to create a financial crisis. With an effective Black Friday sales shopping strategy, soon-to-be mothers can score steep discounts on top baby gear.
Black Friday store ads
Make a list of the top five or ten "must-have" baby items for which you cannot afford to pay full price. These items could be cribs or other nursery furniture, strollers, co-sleepers, baby blankets or even newborn clothing. Major department stores like Macy's release lists of Black Friday sales and specials in advance of the big shopping day. Cross-reference these ads with items from your "must-have" baby list to identify which stores are offering the best deals on each item.
Opt for used when it makes sense
In addition to major department stores, many consignment stores offer great Black Friday deals on baby furniture, toys and clothes. In advance of Black Friday, price out what your "must-have" items cost brand new versus at the consignment store. Decide what (if any) items you are comfortable purchasing "used" versus "new." If you do decide to shop consignment stores, be sure that all items at the store have been "safety checked" for recalls or retrofits. Keep in mind that for safety reasons, the NHTSA recommends purchasing new car seats, rather than used.
Beware Black Friday "bait and switch" tactics
A common Black Friday selling tactic is to lure customers into a store by offering deep discounts on must-have items. Once you arrive at the store, however, you'll find that the originally-advertised baby crib or car seat is no longer available, but that another, more expensive version is available in its place. Watch out for these "bait-and-switch" selling tactics, which try to trick customers into spending more than they intended. Stick to the specials that match your wish list. If the product you want is not available, ask if you can order it through the store's website at the same discounted rate, or take your business elsewhere.
Be flexible on colors and finishes
If you are shopping for the baby's nursery, are you willing to compromise on the rocker finish or the crib color? On Black Friday, certain furniture colors and finishes may be available at steeper discounts, especially if a store is overstocked with a specific item. For furniture or other large items, ask about specials on delivery, as well as free or discounted assembly.
Check Black Friday return policies
Even with Black Friday pre-planning, it's easy to get swept up in the bargain buzz and end up with impulse purchases that you later regret or do not need. Black Friday sale specials may differ from a store's standard return policy. Check with the cashier before making your purchase. If the Black Friday returns policy is different from the standard policy, get it in writing for no-hassle returns, exchanges and store credit at a later date.