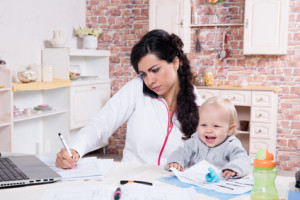 In 2011, the median yearly salary for a college graduate was $45,000, but for someone with a high school education the median yearly salary was just $30,000, according to the Institute of Education Sciences. You're a busy mom who wants to give herself a college-backed raise, but juggling textbooks, children and your current job seems impossible. Many moms have taken this road before, and with these tried-and-tested tips you can too:
Optimize
Holding down a full-time job while pursuing an education is difficult, but by optimizing the situation you can make it a bit easier. Pick a school that is close to work so you're not wasting an hour or more in the car every day. If you can't avoid the commute, talk to student services about getting your textbooks on tape so you can multitask during the drive. If you're not getting enough time with your kids, try meshing study and family time by giving little Johnny a set of flashcards to quiz you. If you have little babies who still nap, save money on babysitters and study at CollegeOnline LLC while they sleep. There's only 24 hours in a day and as a mom, student and worker, you need to optimize all of them.
Tuition Assistance
The fewer student loans you have at the end of this journey, the better. The University of Chicago reminds its students to ask their employers about tuition assistance. Many companies will pay for your classes if you can argue the relevance to your career. A small-business owner may invest in you if you convince her that your education will help improve her company. Even a large chain like Barnes and Noble is willing to pay for some classes under its tuition matching program.
Student Resources
Although most students seem to be age 18 without full-time life responsibilities, your school likely knows that some of its students need a bit of extra help to juggle. Check into the student resources your school offers. Campus child care, discounts on bus rides or even an on-campus job could make your life easier.
Organization
Your organizational skills could make or break this endeavor. As a busy student, worker and mom, you don't have the ability to let your homework sit until the last minute. You probably don't have large time blocks for studying either. Things, an iOS task manager app, will break everything that you have to do into short tasks on a to-do list. When you get an extra 15 minutes, just pull up Things and it will remind you that it's time to write an outline for a paper, time to help your daughter with her homework or time to bake cookies.
Winter Blues
Cold weather and gray skies can make second-semester motivation impossible. Cut yourself some slack during this time of the year, and prepare for it by lessening your load. If you can't afford to cut down on your course work, move as many tasks as you can to home. By avoiding long slow drives on slushy winter roads, you can save yourself hours of time.
Self-Care
A single mom doesn't really have time to take care of herself as she's being pulled from pillar to post to meet everyone's needs. Take care of yourself in bite-sized increments. Perhaps schedule self-care on your Things app. A few moments spent stretching, five minutes of meditation, or even permission to close the books and watch a movie with the kids on a Friday night are all critical parts of self-care, which is essential if you want to have the energy to keep studying and working.