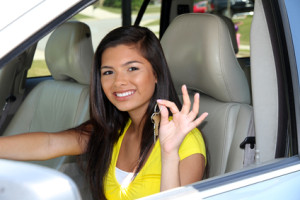 The California Department of Motor Vehicles reports that teen speeding violations top the list of auto-related violations at 52 percent, followed by improperly following signs or signaling at 25 percent. Introduce your teen to tools and resources that help them understand the importance of safe driving techniques—like stopping completely at a stop sign—so they develop into safe and knowledgeable drivers.
Anti-texting Apps
Your teen puts himself and other drivers at risk when he texts while driving. You can provide incentives or take away the keys, but you can't always count on him to use the best judgment when you're not around. Instead of leaving it up to chance, use an app that stops him from texting. Drive Off detects when your teen has reached a speed higher than 10 mph while driving and then disables notifications and calls with a mandatory screensaver.
If you feel your teen has more self-control, consider Canary. This Android and iOS app provides you with real-time alerts if your teen disobeys safe driving rules. If he texts, goes outside of the area you allow him to drive or speeds, you'll know.
Practice Written Tests
Help your teen get his permit on the first try by pointing him to DMV practice tests online. Seventy-two percent of aspiring drivers fail their written permit test the first time, according to driving-tests.org. The more he practices, the more comfortable and confident he will feel about the answers. Sit down with your teen and help him study the rules of the road. Look through a variety of practice tests, create flash cards and quiz him on his knowledge.
Driving Software
State Farm provides a 3-D application that helps teens learn how to identify potential road hazards. Road Aware is Web-based, so it doesn't need any special system requirements for your teen to gain access. The software also lets you know how your teen did after they finish. State Farm also offers another tool called Road Trips. Road Trips acts as a companion for your teen's behind-the-wheel training, letting them maximize the skills they learn every time a practice drive is complete. This works well in states that require you to have driving logs as part of your teen's learning experience.
Car Monitoring
Ford's MyKey system programs specific settings in the car like maximum speeds, radio station control, radio volume control and seat belt reminders. Another driving monitoring device is DriveCam. This system provides a video stream of your teen's driving so you have visual feedback and can address any risky or problematic driving behavior. These recordings last up to 12 sounds and provide full visual and audio feedback.