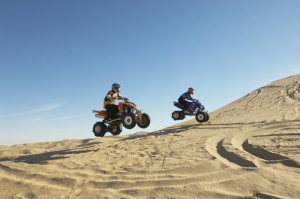 Studies show that father and son bonding increases education and reading achievement and decreases the risks of drug and alcohol abuse and criminal activities. Finding ways and opportunities for bonding activities can be difficult with the stresses of work looming. A good dad will find the time and look for activities that he can do with his son, things that will create memories that will last a lifetime.
Go Off-roading
Indulge your son's need for speed with a racing adventure. An ATV or motocross adventure is great for bonding with a teen or soon-to-be teen boy. You can spread out the fun by going to an online four wheeler store and browsing the protective gear and helmets. This gives you the time to discuss important life safety topics with you boy. Then hit the mountains or desert on an all-terrain vehicle. Because they have four wheels, ATVs tend to have better balance and be safer. If you want to kick it up, you can rent a motorbike for about the same price.
Build A Treehouse
Creating something together is a good way to bond with your son and building a treehouse gives a lasting legacy of your time together. A treehouse can be as simple or elaborate as your skills and wallet allow. Some treehouses are a simple deck near a tree while others are polished spheres hanging in a forest, connected by rope bridges. One of the benefits of building a treehouse is that it does not need to happen all in one day. This project is easy to break into separate tasks. One day you and your son can sketch the plans and another you can measure out the materials.
Take A Flight
For as low as $59 each, you and your son can fly in a flight simulator, piloting 8 different jets, including a Boeing 737. Located in Anaheim, the Flightdeck Center offers 600-knot aerial maneuvering simulations, including mid-air combat experience. A typical session is 90 minutes long with 45 of those minutes being actual simulation. They also have a three-hour package with instruction from experienced fighter pilot trainers. This is a once in a lifetime experience, best done over the summer or for a birthday, so that your son has the opportunity to brag a little.
Go Fishing
Fishing is a tried and true father-son bonding activity. Teaching your son how to rig a line and cast for fish gives dad the opportunity to educate. The slow pace of fishing gives enough time for father and son to talk, share ideas and loves, and create memories. This is the true nature of a father and son outing. The activity will be the story that your son tells his friends at school but the time with you is what he will remember long after you are gone from his life.