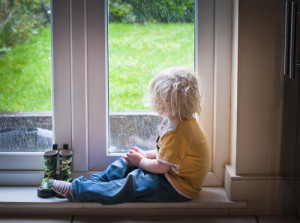 As a mom with young kids, you can never have too many indoor activities in your arsenal to keep everyone occupied. We know that play is vital for a child's development so it's important to make sure those rainy days don't put a damper on playtime. From silly competitions to imaginative play—these indoor activities require a dose of creativity to deliver a ton of fun on those days when the weather has you stuck inside.
Pancake Face Off
Don't let a rainy Saturday morning start your weekend off on the wrong foot, challenge your family to a pancake contest. Mix up a big batch of batter using your favorite recipe and take turns over the griddle making creative pancake designs. Use metal cookie cutters or a squeeze bottle to make fancy pancake shapes. After each one of you has a turn, vote to see which pancake wins. Have as many rounds as you can until you run out of batter. Then savor the fruits of your labor with a pancake feast.
Yoga Time
Playtime is all about learning something new. Take some time to mellow out and become one with the world together as a family. Create a zen-like setting for your practice in a room with plenty of natural light, like a sunroom, so you can better tune into your surroundings. Gather enough yoga mats for everyone. Large beach towels are also a good substitute. Follow along to an all-levels yoga DVD and enjoy some family bonding time that's as relaxing as it is fun.
Create a Car Wash
This is an easy and entertaining way to kill two birds with one stone—clean the toy car collection and keep your little ones occupied with an imaginative activity. Have the kids gather all of their toy trucks and cars and construct a mini car wash in the bathtub. Use colored masking tape to illustrate the cleaning track and fill squeeze bottles and sprayers with water. Have the kids divide the duties and make an assembly line, taking turns with each task. At the end, line up the fleet on the countertop in front of a tabletop fan to dry in a jiffy.
Twisted Tales
Play gives children the opportunity to be spontaneous. Instead of reading the same books for the 1,000th time, put a creative spin on story time and make up a story as a family. Take turns sharing what happens next, setting wild and wacky scenes for your imaginary characters. Since no one will know what to expect next, this game can keep the kids entertained for even longer than their favorite fictional tales.
Go Camping
Play is not restricted to children—playtime gives adults the chance to play again. Create a campsite in the living room for hours of entertainment. Grab sleeping bags, pillows, lanterns and flashlights. Set up a tent if you have one or build a shelter to sleep in using the furniture and a few old sheets. Have a picnic meal on the floor of your campsite and enjoy an evening of telling ghost stories before bedtime.