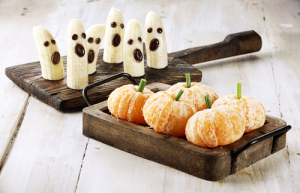 Hosting a healthy celebration on a holiday that is steeped in a tradition of candy is a tall order. To some, the concept of a healthy Halloween may even seem like an oxymoron. After all, as a kid, you too rolled your eyes at that neighbor who handed out apples to trick-or-treaters (and never went back again).
However, in an age where green drinks are becoming more commonplace than Mars bars, especially with parents taking a more proactive approach to their kid's food choices, a Halloween party with a healthy spread is no longer such a scary concept. Here are some tips and tricks to make your party equally ghoulish and healthy:
Creative Crudites
Any good party needs a well-planned menu, and when it comes to a bash for the little monsters, a fun presentation can usually convince even the pickiest little eaters to venture outside their comfort zone. Get the kids to eat their veggies by arranging two to three crudite platters into Halloween-inspired designs. Pinterest is a great resource for ideas, and arrangements that look like a spooky cat or Jack O'Lantern are sure to be loved by the kids and adults alike.
Tip: Rather than making one large platter, it's better to make a few smaller ones since the designs will be less distinguishable after a few guests have filled their plates. Hollow out a few small pumpkins, and fill them with hummus and black bean dip to serve as bowls and decorations.
Sweet Treats
Instead of the typical candy that's loaded with sugar and high-fructose corn syrup, serve healthier sweet treats for dessert. Try fruit and gluten-free, sugar-free black bean brownies, recommends Chocolate-Covered Katie. To make the brownies extra festive, use pumpkin or ghost-shaped cookie cutters to cut them after they've cooled.
For take-home treat bags, make up a batch of popcorn trail mix. Bag it in a clear food service glove so it looks like a spooky hand. Include a mix of popcorn, dried fruit, nuts and toss in a light cinnamon spice blend. Be sure to find out if any guests have nut allergies, and include a nut-free option if necessary.
Get Moving
Plan a few activities to get the kids moving while also exhausting some of their energy. Classic autumnal games of bobbing for apples are always a hit with older kids. Put a Halloween twist on Pin the Tail on the Donkey with a game of Pin the Face on the Pumpkin, using an adhesive Jack O'Lantern face. Boo, Boo, Ghost is another option for the toddler set who already loves Duck, Duck, Goose.
Martha Stewart and Kraft also have a ton of other fun games to consider if you need a little more inspiration. If you're ready to splurge, a haunted bounce house is always a hit with the little ghosts and goblins.
Devilish Drinks
Skip the soda, and keep the drink selection minimal with water and lemonade. Bottled water is fine in a pinch, but if you're feeling extra fancy, serve ice water in a large, clear dispenser. Add a festive touch by freezing plastic toy spiders in extra large ice cubes, which Thrifty Fun demonstrates. Be sure to use toy spiders that are big enough to not pose a choking hazard.
For the lemonade, whip up a batch of lemony-green juice using a blend of apples, spinach or kale, celery, lemon juice and water, as suggested by Chocolate-Covered Katie.
All these tips are sure to help you have a happy and healthy Halloween!