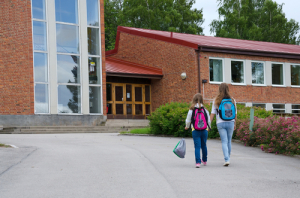 When we hear the term data breach, we might think of the massive incident that happened last holiday season at Target, or when a credit card company or online retailer is hacked in some way and customers' sensitive data ends up getting out.
But actually, there is another type of data breach that we have to worry about, and it can happen at places that we typically think of as being inherently safe: our kids' schools.
Unfortunately, this issue is not as uncommon as you might think; around 146,000 Indiana University students and alumni were at risk for identity theft when their data was accidentally exposed. But even kids as young as elementary school age typically have student ID records that include their names, their parents' names, addresses and in some cases even Social Security numbers.
Fortunately, if your child's school is suddenly dealing with a data breach, there are things that you can do to help take control of the situation and set your mind at ease.
Remain Calm and Gather Facts
As Privacy Rights notes, a security breach does not guarantee that you will have your identity stolen. If your child's school sends an email or calls to report a security issue, the first thing you should try to do is determine what type of info leak took place, which will subsequently determine how you have to deal with it. If you keep a credit card number on file at your child's school to pay for his or her lunch account, this could potentially be more serious than if a hacker merely accessed the classroom lists from the school's website. If this information is not clearly stated in the correspondence from the school, feel free to contact the principal or head of the school to get the facts that you need and deserve to have.
Ask about Cyber-Security Liability
Ideally, your child's school will have a formal data breach policy in place, which means that you will be kept abreast of any issues in a timely way. In some cases, notes The Journal, the school may carry cyber-security insurance that can help those whose information was compromised. If your credit card or Social Security data is at risk of being used for nefarious purposes, by all means ask the school what types of liability insurance they carry that may be able to help you.
Start Changing Passwords and Contacting Banks
Once you have determined what personal information has been compromised in your child's school's security breach, you need to pour yourself a strong cup of coffee and get ready to spend some time changing passwords and account numbers. LifeLock, an identity protection service, offers many suggestions for action. It advises creating a new password to any accounts you have through the school — lunch programs where you add money in an account online is a great example. In addition, if your bank account information was part of the breach, call the bank or credit card companies to let them know what happened and ask them to close out any accounts that were affected. Next, contact all three credit bureaus: Equifax, Experian and TransUnion and ask that all three place fraud alerts on your credit card reports. Again, even though your leaked data might never be used, taking these steps help to give you priceless peace of mind.