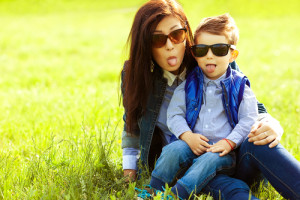 "Dress your age." You've heard the expression, but what does it even mean, anyway? What it doesn't mean is that you should stop caring about your appearance. What it does mean is that you should abandon the crop top and low-rider jeans. Here are some easy-to-implement tips for keeping your wardrobe current and dressing for your personal sense of style—all the while skipping the mom jeans.
Invest in the Basics
You can't go wrong with a classic pair of black pants or a pencil skirt. Same goes for a crisp, white button-up and a structured mid-weather coat. These basics are pieces you'll wear over and over again, so find a style that fits both your taste and budget. When allocating your clothing budget, put more weight into this category, as these pieces will be most versatile and used more often.
Out With the Old
Your closet is packed to the brim—the pantsuit you wore to a party in the 1980s, evening gowns and wild fringe leather vests. Most of these you haven't worn in years. Save a few favorite items, but hand off the rest. Donate them or add some to your daughter's dress-up clothes. If your daughter is a teenager, she might enjoy tailoring and accessorizing the pieces to make them hip and current.
Dresses can be donated to the Princess Project, which provides dresses to high school girls who want to go to their proms but cannot afford the expenses of the event.
Denim Up
Jeans are a blessing and a curse. On one hand, the right fit will hug your curves and make you feel fabulous. On the other hand, a good fit is hard to come by. Poorly fitting jeans—the ones that are just an inch too short or that give you a muffin top—will ruin an outfit.
If you don't have a perfectly flat tummy (and let's be honest, that's most of us), consider a pair of mid-rise jeans. These will fit through the crotch and hips and work seamlessly with whatever top you choose. These aren't mom jeans. They're simply jeans that actually fit someone other than your 16-year-old daughter.
A dark wash will appear slimming throughout and are more easily dressed up. Pair your denims with heels for the perfect date-night outfit.
Accessorize
Upgrade your accessories, starting with your purse. Go with a classic designer handbag that's large enough to conceal all the quirks of your chaotic life. Whether you want a neutral bag or one that banks a pop of color, Coach carries a variety of gorgeous totes that will capture your personality.
Next, take control of your jewelry. If you're on a limited budget, shop for colorful, clunky costume jewelry. This can make your outfit pop and help you feel more put together. Find a go-to set of earrings. Pearl or diamond studs are classic pieces, or look for something dangly and elegant.
Finally, scarves a great wardrobe staple. Find bright-colored scarves on sale at department stores. Contrasted against your neutral basics, you can change up the boring business outfit for a fun-but-still-professional ensemble.