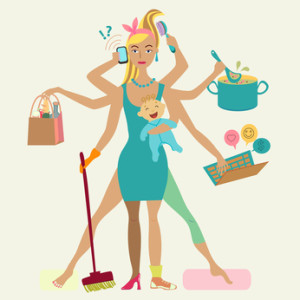 Moms are busy people in general, but moms who also work from home face some serious organizational challenges. Keeping track of your own time is one thing, but work-from-home moms have to keep track of the kids' schedules, school events, sports activities, grades and health, while also being productive and profitable.
If you're a WAHM and don't have a smartphone, you have been going about this organization thing all wrong. We are always looking for ways to streamline and simplify, with certain devices proving more helpful than others. It's no coincidence that we see the same products on "best smartphone" lists again and again: iPhone 6 and 6 Plus, as well as Google Nexus 6 and both Samsung's Galaxy S5 and Galaxy Note 4 are among the most popular. All are great options (in fact, several are on ValueWalk's list of best smartphones for 2015) and the following four apps are available on all of them.
Moms who used to put their to-do lists on the refrigerator door with a magnet now carry smartphones and tablets. They're not looking at written lists in the kitchen while they make breakfast and school lunches anymore. Now there's 2Do Lite: Stunning ToDo list.
Lex Friedman, writing for MacWorld, loves 2Do Lite's "jam-packed" and "feature-rich" design and customization. He rates the app that lets users create simple lists, checklists, or projects with up to three calendars at almost four out of five. Users can import dates that are important like birthdays and make them into recurring events, lock tasks and calendars so other can't access them, easily share lists by email and Twitter Tap, move tasks between calendars with drag and drop, and look at calendars and tasks from a single view without toggling back and forth.
Busy moms don't have to ever miss a parent teacher conference or conference call again with this app. They can always have their to-do lists and calendars as close as their smartphones.
Busy moms may already be using Google Docs to work remotely with clients or work teams, and be taking advantage of the cloud to store photos and files and keeping their laptop or desktop computer hard drive less cluttered. With Google Mobile's Drive app, they can access all that on their smartphones from the sidelines at their kids' soccer games, or on the cab ride into the city to meet a big client. The Drive app lets moms easily get to Google Drive to work on text documents and spreadsheets with Google Docs and Google Sheets even when they're not at their desks.
This app lets moms do away with all the superfluous plastic in their wallets and store reward, loyalty and club cards in their smartphones. Instead of digging through their wallets or jiggling their keys to find a barcode at checkout or check-in, they can just use their smartphones and get their bar codes scanned.
CardStar is poised to let users take advantage of the impending explosion in mobile loyalty programs. Retailers are constantly looking for ways to get closer to their customers and getting customers to return again and again, and mobile loyalty programs let them do that easily. Depending on the type of business, work-at-home moms can benefit from using CardStar to develop their own mobile loyalty programs for clients and customers.
The Grocery IQ app gives busy working moms a feature-rich way to breeze through grocery shopping. Search by keyword or scan grocery items you want to add to grocery lists, check off items from your list as you go, create different grocery lists for different stores, look for coupons and group grocery items by the aisle they're in to save time in the store. Reviewer Tanya Menoni gives Grocery IQ four out of five stars because it's easy to use, has a comprehensive data base and it's free.