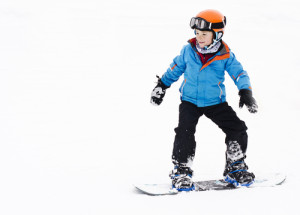 The participation rate in outdoor activities for kids between the ages of six to 12 was 63 percent in 2012, according to a report by the Colorado-based Outdoor Foundation. While that number may sound encouraging, it's a sharp drop from their 78 percent outdoor participation rate in 2006. Outdoor participation for kids ages 13 to 17 also dropped, but not as sharply: from 69 percent to 60 percent in that same time period.
Some of the decline can be attributed to the recession and families cutting back on recreational trips. Smartphones, tablets, and video games have also become more affordable, and occupy a good chunk of American kids' time. Market research firm GFK found in a 2014 data analysis that teenagers spend an average of four hours per day on portable devices. Childhood obesity has risen as a result of mass inactivity. A 2014 study published in the Journal of the American Medical Association found that at least 35 percent of U.S. children under age 17 are obese or overweight.
Long, cold winters can make it even tougher to convince kids to go outdoors. But there are plenty of winter sports they can participate in competitively or recreationally. Here are three affordable options to consider:
Snowboarding
Kids can start snowboarding as early as age six when they can confidently keep their balance. But it's most popular among those ages 12 and up. The primary key to enjoying snowboarding is keeping warm while learning.
Make sure to get snowboard jackets with articulated arms to allow full range of motion without exposing skin. The jacket should also be waterproof and insulated for comfort even in bitter wind chills. Long underwear, thermal shirts, goggles, and waterproof gloves are also necessities.
First-timers can rent a board, boots, and helmet from local ski shops on the mountain to determine if they like the sport. It will cost around $20 per day, but some resorts offer discounts if you rent for multiple days at a time. Some packages include lessons either for free or for a small additional fee.
Like all things, snowboarding takes practice. Encourage your kids to stick with it. All you have to do is show the kids videos of Shaun White winning gold medals at the 2006 and 2010 Winter Olympics for the U.S. in the half-pipe contest to get them interested. It's only a matter of time before they learn the difference between switching and ducking, and are referring to their new pastime as riding instead of "boarding."
Ice Skating
U.S. women dominated ice skating for about 20 years, winning nine medals from 1988 to 2006 at the Winter Olympics. Evan Lysacek's gold medal at the 2010 Vancouver Olympics renewed many young men's interest in the sport as well. Ice skating is fun, engaging, and can keep the kids occupied for hours.
Ice skates, like roller skates, are typically rented at the rink. U.S. Figure Skating hosts basic skills programs at more than 1,000 facilities in the world if your interested in having your kids learning from the best. The program covers everything from speed skating to dancing on ice for a $50 fee.
The key to becoming a good ice skater and enjoying the sport is having fun. Most teachers will encourage laughter whenever a fall happens, and most will instruct your children to fall down on purpose a few times. Once kids get a feel for moving while holding the side rails, they can let go and start gliding. Squatting is necessary to perfect balance and strengthen the thigh muscles that keep kids upright.
Once the kids fall down a few times and learn how to start and stop, they'll start asking to go ice skating more often.
Target Shooting
It's not hard to get boys interested in guns. Target shooting can introduce them to the basics of safety and handling of firearms, which could be a precursor to leisure hunting. Inspire your young ones by showing them footage of some of the top biathletes that have been to the Olympics. The sport involves cross-country skiing and sharp shooting. This is an extreme undertaking for little ones, so begin by practicing target shooting.
Younger kids can start out with air rifles. If they can learn to aim with old school iron sights, they'll eventually become super marksmen when they graduate to a .22 caliber rifle in a few years. Field & Stream Magazine recommends using creative targets, like water balloons and colored ice cubes. But when dealing with firearms, including air rifles, safety always comes first. The safety apparatus should always be engaged when the weapon is not about to be fired; finger off the trigger unless you're about to shoot; and always point the muzzle upward.
Outdoors activities can be as simple as building snowmen, making snow angels, or sledding down the hill in your backyard. It's up to you to encourage and reinforce the activities until the kids settle on a few they like.