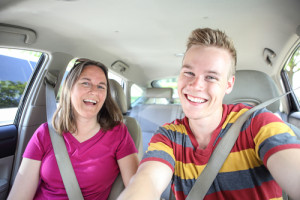 The statistics are enough to make us want to wrap our teens in bubble wrap and buy them a lifelong bus pass. As the Centers for Disease Control notes, car crashes are the number-one cause of death for teenagers in the United States. According to recent stats about 2,600 teens ages 16 to 19 were killed and almost 300,000 were treated in the emergency room after being injured in a wreck. Newly licensed teens, males ages 16 to 19 and teens driving with their friends are at the highest risk of being in an accident.
Fortunately, being involved in a vehicle crash is not an inevitable rite of passage. The vast majority of accidents are preventable, and with enough teaching and strategies on our part, we can make an impact on our teen's safety behind the wheel. As North Jersey notes, when parents are actively involved in their teen's driver training, a whopping 92 percent of the new drivers didn't get in a car crash during the first year of having their license. With these encouraging numbers in mind, we moms can do the following:
Be a Great Role Model
While it might seem like our teens are not listening or watching us most of the time, they are paying way more attention than we realize. As State Farm notes, one of the best ways to be sure our kids are safe drivers is to follow the old adage and practice what we preach. If we don't want our teens to text while drive, then we don't get to look at our phones either — even when we are at a red light and we want to do a quick text check. If we don't want our teens to speed and act crazy behind the wheel, we need to stick to the speed limit and resist the urge to mouth off at other drivers. Other things moms should do at all times include wearing seat belts, avoid taking and making cellphone calls, and use our turn signals every single time.
Create & Sign a New Driver Contract
As the National Safety Council notes, writing up an official agreement that moms and teens both sign is an effective way to lessen the risk that our children will be in a car crash. The website has sample contracts that everyone can read together, or we can also certainly write up our own. The document, which some parents refer to as the New Driver Deal, can include things like rules we have established for our teen's driving — including when he or she can drive, how far he or she may drive from home, and if teenage passengers are ever allowed — as well as consequences and privileges. Having a signed document in our possession makes it a lot harder for a teen to magically "forget" some of your rules.
Encourage Them to Study the Rules of the Road
While it is definitely a good idea to go over the driver's manual for our home state with our kiddos and refresh our own memory on the driving rules and regulations at the same time, it's also helpful to provide teens with resources that they can use on their own to become a better driver. For example, if and when a teen balks at the idea of studying for a driver's permit test with us, we can show them the Driving-Tests.org website. The site includes free practice driving tests from every state, and it can be a terrific way for teens to teach themselves about the rules of the road and prepare for the permit test.