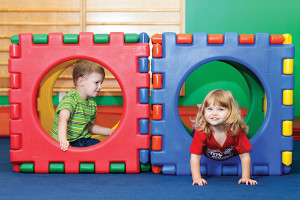 Olive Garden is breaking down the barriers to date night for parents through a North American partnership with My Gym, the no. 1 children's fitness program. The leading Italian restaurant is providing kids with a free fun-filled evening at My Gym while their parents enjoy an affordable 4-course Italian meal as part of its second annual Parents' Night Out on Friday, Feb. 20.
A recent survey found that the overall cost, including childcare and dining, combined with lack of trustworthy child supervision are the largest barriers to date night for nearly 75 percent of parents.* Parents' Night Out is designed to solve this dilemma. Parents can enjoy quality time over an affordable and delicious meal at Olive Garden while their kids are entertained with games and activities in a safe environment.
"We understand how important quality time is for busy parents, so we are thrilled to help them enjoy a worry-free evening together," said Jose Duenas, executive vice president of marketing for Olive Garden. "Through our partnership with My Gym, we are able to provide the entire family with an evening out."
Couples can participate in Parents' Night Out by contacting their nearest My Gym location to confirm participation, obtain event details and register. Space is limited to approximately 30 kids at each of the 148 participating My Gym locations in the U.S. and Canada, and reservations will be taken on a first-come, first-served basis (deposit required).
"We are excited to once again team up with Olive Garden, a company that shares our values of creating memorable experiences for the entire family," said Cory Bertisch, CEO of My Gym Enterprises. "Through Parents' Night Out, we are able to provide families with a special experience that supports those values."
Olive Garden also invites parents to share their date night photos and stories using #OGParentsNightOut on Facebook, Twitter and Instagram.
To help parents make the most of their evening, Olive Garden is offering its first-ever Four-Course Festa Italiana starting at $12.99, featuring unlimited breadsticks and choice of homemade soup or famous house salad, and choice of small plate, entrée and decadent Dolicini mini dessert.
For more about the great deals at Olive Garden, visit www.olivegarden.com or connect with Olive Garden on social media at Facebook.com/OliveGarden, Twitter.com/OliveGarden and Instagram.com/OliveGarden.