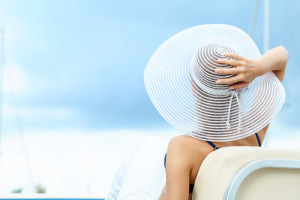 We all want to be better parents. And it may seem counterintuitive, but the more you establish a habit of spending quality time by yourself, the more your kids will benefit. Whether you work at an office, work from home, or have the full-time job of "mom," your days are packed full. With time devoted to work, your children and your spouse, not to mention running a household, you are probably the first priority to slide.
But like they say on every airplane you board, "secure your oxygen mask before assisting those around you." How can you expect to take care of others if you're not properly taking care of yourself? In order to be a more patient, relaxed and happy mom, it's time you give yourself some TLC. Here are some ideas that can get you into the habit of engaging in solo time, for your own benefit and the benefit of the ones you love.
Get on the Water
When you think tranquility, what comes to mind? If you're like most people, there's no more serene image than one of glistening water in the sunshine. If you live near a beach, all you may need to refresh your senses is a stroll to the closest pier and a few uninterrupted minutes soaking in the sight of the ocean. No beach nearby? No problem. Give boating a chance. If you have a lake within easy driving distance, you can get away for a few minutes or a few hours of peaceful floating on the open blue. Be sure you get all the necessary permits and boating licences needed, which is a breeze thanks to websites like BoaterLicenses.com. Sometimes just a little time spent gazing at the water can recharge your batteries.
Take a Hike
If water isn't your thing or isn't an option due to your location, maybe you just need some time spent in the mountains. If you have some peaks nearby, hiking can be a quick and free way to escape the stresses of everyday life and gain some endorphins. You can choose a low-key hike if you're in the mood for meandering, or opt for a strenuous one if you need to blow off serious steam. Hiking is great because you can choose to go solo when you want to clear your head and think, or you can try out a hiking club if you want some peer companionship and camaraderie.
Unwind and Learn a New Skill
While "me time" implies a block of time spent on your own, it doesn't have to be limited to lone activities. Plenty of new concepts are available that offer individuals or groups the chance to try out new hobbies and pair them with either coffee or an alcoholic beverage, depending on the time of day and activity. One fun idea is the combination of wine and painting, like at a Brush Bar. You can go by yourself or with a friend, sip some vino and learn how to paint a picture, all while receiving the therapeutic effects of putting paintbrush to canvas.
Meditate and Sweat
If you're extremely strapped for time and need your "me time" to coincide with your exercise time, yoga is a wonderful option for you. While most yoga studios offer group classes, you can also choose to hire an instructor for private lessons if that's more your style. Either way, consider giving it a try. There are many varieties, but if you want to really sweat and detox from the inside out while getting a true cardiovascular workout, Bikram Yoga is a winning variety. You'll spend 90 minutes pushing your body to new limits, embracing deep breathing and gaining peace of mind.
Pamper Yourself
For some, the ideal form of time alone is both solitary and relaxing. While they may not be the first to come to mind, your feet can be a pathway to this sort of rejuvenation. If you have a good book you've been meaning to read, try scheduling a deluxe pedicure and catching up on your reading during the treatment. Another idea is to give yourself the gift of a foot reflexology massage. Many spas around the country offer feet-specific forms of massage that can soothe away stress and give you back that spring in your step. Don't like to have people touch your feet? Schedule a hand reflexology massage at a spa or a blowout at a Blow Dry Bar. These options are relaxing and can be selected based on your time and financial parameters.
When it comes to being a more focused, dedicated parent, your first step should be being good to yourself. Take some time, even a few minutes here and there, to do what makes you feel good in body and soul. Consider options like boating, hiking, wine and painting, yoga or spa services. What matters most isn't the activity you choose, but the fact that you choose one (or several) and commit to carving out that "me time" on a regular basis. You're worth it!