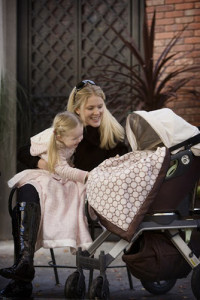 There's a common bond among mothers that is born out of the desire to give our babies nothing but the best. When we bring these little lives into the world, and as they continue to grow before our eyes, we want to make sure every need is met, not just adequately but extravagantly. We scour for premier products to use during pregnancy and, once out of the womb, we look for only the highest quality of goods that will touch our baby's precious skin. And to make it a little easier for you to choose top-notch companies worthy of your dollars (and trust), here are a few of note.
BABYBEARSHOP
Once upon a time, a mother had a baby who was ridden with numerous allergies. Frustrated by the lack of products that could be safely used on her little darling, she didn't know where to turn. This passion for finding something that wouldn't negatively affect her child's skin is what fueled the start of BABYBEARSHOP. A luxury, organic body care line that is made for both mothers and babies, the company focuses on maintaining the highest standards. Every product is formulated without chemicals, parabens or other harmful or potentially allergen-inducing ingredients. The company is proud of making all products in the U.S., being eco-friendly and 100 percent cruelty-free. Products range from items like Cheeky Baby Butter Organic Baby Balm to Wishy Wash Organic Baby Wash + Shampoo.
SwaddleDesigns
One brand that has made its mark through quality products and a unique story is SwaddleDesigns. Dreamt up by Lynette Damir, RN, CEO and Creative Director, the company came to life in 2002 when she realized that parents consistently struggled with properly swaddling their newborns. She used her background as an RN, along with her education from the Art Institute in Seattle, to create a large, square blanket perfectly designed for swaddling, and included pictorial swaddle instructions sewn right onto the edge of the blanket. Since then, the business has boomed and products include swaddle blankets, burp cloths, bibs, sleeping sacks, crib sheets, stroller blankets, and much more. With a continued commitment to excellence in quality and making life easier for parents everywhere, SwaddleDesigns has developed an avid following.
Motherlove
Another mother, who was born in Minnesota and eventually moved to Colorado, was raised in a medical family. She became passionate about using plants to improve aspects of her health and her daily life. Once she became pregnant, she started making her own herbal supplements since she couldn't find any available that were up to par. Kathryn Higgins created these products back in the 1980s, and from them, Motherlove was born. As the company has grown and expanded over the years, the quality has remained superior. Higgins still remains an active part of the business' vision, but now spends much of her time as a speaker for breastfeeding organizations and hospitals. With products made from pure ingredients and organic herbs, Motherlove has everything from nipple cream to milk-increasing capsules to belly salve and beyond.
So if you want only the best for your little bundle of sunshine, you'll want to support only the finest companies. The next time you're in need of high quality products for baby, and yourself, give BABYBEARSHOP, Motherlove and SwaddleDesigns a try. You won't be disappointed, and neither will your baby.