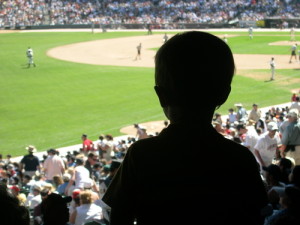 Given their propensity to be brutally honest, kids, especially tweens, can be notoriously difficult to shop for. But if you focus on their interests, you can narrow the field of options and increase your chances of choosing a gift that will be a hit.
For young sports lovers, use their interests to help you find the perfect present. Here are a few foolproof options for any aspiring athlete:
Team Tickets
There is a certain magic to seeing your favorite sports team play right in front of you. No matter how old you are, the energy of live sporting events inspire an undeniable child-like wonder and giddiness.
Treat your child to an evening watching his favorite team. You'll create some long-lasting memories in the process. If your budget allows, consider splurging on season tickets, or splitting season tickets with a friend. Even if your seats are in the nosebleed section, it will be a worthwhile investment to be able to bond with your kid all season long.
Sporty Shades
Proper eye protection is essential if your little sports lover spends most of her free time outdoors perfecting her game. Amp up the UV protection and improve her game with a pair of sporty sunglasses and lenses specially designed for her favorite sport. For instance, yellow-tinted lenses are best for mountain biking, skiing and tennis because they filter out blue light to provide clarity in low-light conditions. Red lenses are great for cyclists as they reduce harsh contrast. If your child is working on her golf game, consider amber- or brown-tinted lenses as they improve visual depth perception.
Bowling Gift Card
Those who say bowling isn't a real sport have never watched someone bowl a perfect game. Help the sporty kid in your life master the art of the strike by giving him a gift card to the local bowling alley. This iconic game is a fun way to stoke your child's competitive spirit. It's also an ideal activity for an independent tween to do with friends.
Pair this gift with a personalized bowling shirt or a bowling ball.
Biography on a Sport Superstar
Inspire your sports enthusiast by gifting him a biography or autobiography of his favorite sports superstar. He'll learn about discipline, determination and about the superstar's humble beginnings. Your little one may be amazed to see how much he has in common with his sports idol.
If you have trouble finding an age-appropriate title, instead consider a more general book on the history of the sport or his favorite sports team.
Sports Magazine Subscription
If the child isn't very interested in reading, a magazine subscription to a publication focused on her favorite sport may be a better option than a book. From "Sports Illustrated Kids" to titles focused on specific sports, there are plenty of options to choose from to help your child learn more about a topic that interests her while also improving her reading skills.