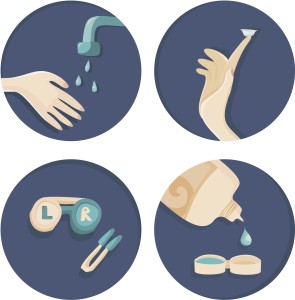 Wondering if your child is ready to make the big switch from eyeglasses to contact lenses? Optometrist Bernard Lepri of the Food and Drug Administration advises against it if they are under the age of 12 for hygiene reasons. However, there are several other factors to consider as some children may be ready at an earlier age. Before you opt-in, here are some circumstances to consider:
Age is Only a Number
With age comes maturity, but this doesn't mean your child is responsible enough to wear contacts. If you're going to have to constantly remind him or her to properly care for their contacts, the convenience factor gets tossed out the window. Wondering how to assess your child's level of responsibility? Start by paying close attention to their routines and habits pertaining to the care of their personal belongings and responsibilities. If they're not on top of things, you may need to wait a little while longer.
Sports Enthusiast
Peripheral vision is paramount in most sporting activities. But goofy goggles and traditional frames don't facilitate it. In fact, the latter is actually risky because the lenses could shatter and deposit sharp pieces of glass into the pupil. Ouch! Contact lenses provide your little athlete with comfort on the field and prevent you from having to worry about replacing lost frames.Plus, with contact lens delivery from a reliable source like Vision Direct, it's even more convenient to ensure your child always has a fresh pair of contacts.
Pre-Teen Blues
During those critical middle and high school years where perception is reality to their peers, strolling up and down the hallways in glasses may cause him or her to stick out like a sore thumb. And the last thing you need on your hands is a child that skips school or hides their frames out of the fear of being taunted by others, both of which can lead to poor grades and low self-esteem that plagues them later in life.
Smells like Teen Spirit
No parent wants to admit their child has poor personal hygiene. And once they reach a certain age, it's up to him or her to keep their hygiene up to par without parental nudging. Keeping up with contact cleanliness is imperative for proper eye care. Daily cleaning using proper contact solution like Opti-Free is a must to maintain healthy eyes. If you find that your child cuts corners with general hygiene, chances are they'll do the same with contact lenses, which paves the way for unnecessary eye issues or even worse, exorbitant medical bills resorting from trips to the emergency that could have been avoided.
Safety Tips
The FDA recommends your child take the following safety precautions when wearing contacts:
Wash both hands before handling lenses.
Refrain from using any solutions not prescribed or recommended by an eye care professional.
Follow the wearing schedule prescribed by the optometrist.
If their eyes are irritated, see an eye care professional immediately.
Don't wear contact lenses belonging to others.
Failing to follow these safety precautions could lead to eye irritation or eye infections.
Bottom line: contact lenses can be quite beneficial to your child, but only if they commit to proper eye care.