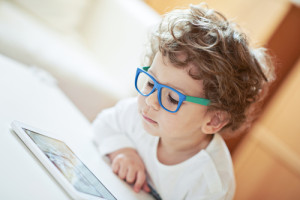 Patience is probably not at the top of the list of your dear child's attributes. So when it comes to waiting at the doctor's office, sitting on a long-haul flight or even just waiting for a table at a restaurant, keeping your little one entertained and quiet can be quite a chore. Here are five strategies to keep your kids entertained while waiting anywhere:
Watch a Favorite Show
Love them or hate them, there's no denying the power that tablets and smartphones have when it comes to keeping little ones occupied and quiet. From educational games and coloring apps to taking selfies and watching Disney World parades on YouTube, the possibilities are almost endless.
Of course, with the good comes the inappropriate. Keep your child occupied with content you know is safe for young eyes by choosing a smartphone or tablet that offers kid-friendly functionalities. For instance, the Samsung Galaxy Note 4 offers a Kids Mode app that gives your little ones their own home screen and prevents them from accessing your personal device settings.
Play I Spy
This classic guessing game makes long waits and car rides more fun while teaching mindfulness and the importance of observation. You only need two people to play, but you can have more, too. Take turns leading the game by choosing an object around you that you "spy," and then offer clues one at a time as other players guess what it is. This game can be especially fun when waiting in an out-of-the-ordinary place, like a hospital or airplane filled with plenty of unusual objects to spy.
Color on the Go
Don't underestimate the entertainment power of this simple and artistic activity: coloring. Pass time encouraging their imagination and drawing skills or simply teaching color identification. Keep a spiral-bound sketchbook and a small assortment of crayons in your diaper bag or purse for an easy activity anywhere you need one.
Another great option are the Water Wow coloring books by Melissa & Doug ($4.99), which come with a special painting pen that is used to color each page when filled with water. Your kids will love that it feels like playing with magic and you'll love the lack of mess.
Build With Magnetic Blocks
Encourage your child to channel her inner architect or engineer with a travel set of Tegu's magnetic building blocks ($25-$31). Each block in this eight-piece set is magnetic, so gravity won't hold back your child's imagination in that same way it does with traditional wood building blocks. This travel set is ideal because it's compact and the blocks nest together to fit into a small carrying case that comes with the set. The company is committed to sustainable practices and the blocks themselves are non-toxic and feature water-based paints, making them safe for littles who still have to taste all their toys to play with them.
Read 'My Quiet Book'
These soft fabric books are designed to engage all of your child's senses while keeping them entertained and quiet. Each page features a different interactive activity such as snaps, zippers, Velcro shapes and lacing to encourage your child to learn a variety of skills. You can find a variety of My Quiet Books on Amazon in various themes (starting at $23.99), but if you are crafts-y and want a book more tailored to your child's interests, you could also easily create your own using one of the many DIY instructional posts found on Pinterest.