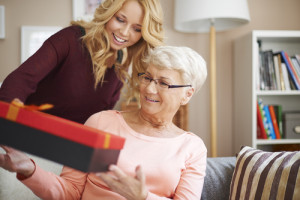 Mother's Day is not just about celebrating your own mother, this is a special day to show your appreciation for all mothers, including (and especially) your mom's mom. After all, your grandmother is one of the reasons you exist and has kept your family as close as possible over the years.
If you're unsure of what your grandmother would like as a gift, ask yourself: What are her hobbies and interests? Below are a few ideas.
For the Gardener
If Grandma has a green thumb and loves spending the afternoons tending to her garden, get her a Mother's Day gift with her gardening skills in mind. A new pair of gardening gloves is practical, but for a more thoughtful gift, break out the craft supplies and paint a set of terra-cotta pots. Include soil and sunflower seeds, so Grandma will always think of you when she admires the beautiful flowers.
For the Gourmand
Whether Grandma is a master in the kitchen or prefers to appreciate the fruits of someone else's culinary labor, if she loves food, she'll appreciate a gourmet gift basket. Choose one that is piled high with all of her favorites: chocolate-covered strawberries, European chocolates, delectable cookies or something lighter like an assortment of fresh fruit. Or all of the above.
For the Tea Enthusiast
If any time is teatime at Grandma's house, spoil her with a new teapot and a blend of loose tea this Mother's Day. A teapot that brews loose tea with an infuser in the center (to soak the loose leaves) is the perfect option for your tea-loving grandma. Stop by your local tea shop to pick up an herbal blend of teas for different uses (i.e. calming, sleep, flavor, etc.).
For the Photo Lover
When Grandma already has everything, it can seem impossible to come up with a great gift idea. If this is you: how about a custom photo calendar? Many online photo printing companies have calendars for less than $30. The hardest part of making this gift is narrowing down the photo selection to just 12 photos. Choose each month's photo to suit a holiday, birthday or other special event that fall in that month to make it a little easier to select the pictures. For an extra special touch, have all of your family member birthdays and anniversaries printed on the calendar so that Grandma never forgets.
Other Ideas
If you have a big family, it can be difficult to find a gift for Grandma that someone else isn't already getting for her. Make it easier on everyone by teaming up on a group gift instead of trying to come up with something unique on your own. For instance, you could get her a charm necklace with the name, initial or birthstone of each grandchild on each charm. Or you could all pitch in to get Grandma a new tablet so she can FaceTime with out-of-town family. With a group gift, you won't have to spend a lot of money to get something really nice, so it's a win all around.