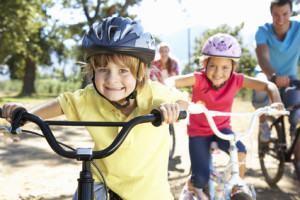 Nearly half of preschool-aged children are not spending enough time outside, according to a study published in the Archives of Pediatrics and Adolescent Medicine. The study, which looked at 8,950 American children, found that only 51 percent of preschool-aged kids had the opportunity to play outside once a day with the supervision of a parent. If your kiddo could use some additional playtime, encourage them to get outside by using a reward system.
Celebrating Sports
Active kids have stronger bones and muscles and are less likely to become overweight, according to KidsHealth.org. When many adults think about exercise, they envision lifting weights or working out at the gym. But for kids, exercise ranges from recess and gym class at school to soccer practice and riding bikes around the neighborhood. For kids who need a little push to get outside and get active, consider rewarding active behavior with a special kind of celebration.
Kids love swimming, and they also love parties. Combine these and have a swim party after your child's next soccer game or scout meeting. Round up everybody and order pizza and snacks for everyone (be sure to note any food allergies the kids or adults may have). You'll find a great list of children's pool party games at InTheSwim.com. Kids will love spending time with their friends outside of school or practice, and they'll be execising and not even know it. Plus, the party will give parents a chance to mingle.
Family-Friendly Rewards
Biking is a family-friendly activity that kids will enjoy. Some of the kid-friendly benefits of biking include the development of balance and strength and strengthened heart and lungs — and, it's a good way to build young muscles without much strain. If your family loves biking, encourage your child to unplug and take a bike ride around the neighborhood together.
Reward your little one by letting him pick out a movie to watch. Set up a family movie night in your living room with lots of pillows and blankets and, of course, popcorn. Read Timeout's list of the 50 best movies for family movie night.
Sweet Incentives
If you've got a green thumb, encourage your child to spend some time outside with you and play in the garden. The National Gardening Association's Amy Gifford told Babble.com that gardening helps kids learn valuable skills like responsibility and patience. Gardening can even help kids learn valuable lessons about tough subjects (such as loss) when the flowers begin to die at the end of the growing season. Gardening is fun for kids and at first glance, it doesn't seem like a physical activity, until their little hands start pulling weeds and tilling the flower beds.
After you've both gotten your hands dirty, take a moment to enjoy the outdoor air and a sweet-tasting treat. Reward your kiddo and yourself with a bowl of ice cream or a homemade popsicle. Let your child pick out his or her favorite flavor and enjoy it outside in the garden.