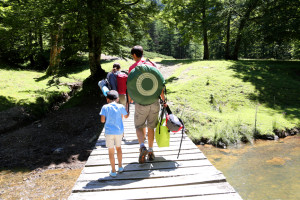 Summer is here and with it the ideal weather for camping with the whole family. It's time to hit the trails, mountain lakes and lush forests in order to unplug from your busy life and enjoy the great outdoors, but to do so safely you'll need the right gear. Here is a guide to keep you and your family safe.
The Road
If you have a long drive before getting to the trailhead, make sure your car is up to the task. First, write up a car maintenance checklist. This should include a checkup and oil change, new spark plugs, wiper blades, and maybe even new tires. An ill-maintained car can be a safety hazard to your family, as well as other drivers on the road. If you get a flat tire on a bad stretch of road with no turnouts, you could be in a very dangerous position. Worn tires decrease fuel efficiency and can develop slow leaks that turn into flats. Check the wear on your tires with a penny and quarter to measure how far the tread comes up on each coin. If your tires are showing wear, get new ones. BF Goodrich Radial Long Trail T/A tires are perfect for SUVs and trucks because of their all-purpose utility.
Hitting the Trail
One of the most important pieces of hiking equipment is also the simplest: good boots. It may seem like a no brainer. Boots that don't fit correctly can cause blisters that can become infected and lead to severe foot pain while in the great outdoors. Understand how to choose the hiking boots that are best for your ambitions. In addition to this, you'll need a good first aid kit that includes bandages and antiseptic for cleaning cuts, as well as athletic tape for wrapping hot spots on sore feet.
Staying the Night
When it comes to camping with the whole family, the Frontier 6 by Kelty is a six-person tent with the reliability and space for all of you. With a selection of different camping stoves on the market, you'll be able to make great meals even while in the wilderness. Determine which model suits your needs. There are white gas, wood burning, propane, and even multi-gas stoves.
Remember, when you're exploring the outdoors you're also a visitor. Don't litter and follow leave no trace principles if possible. Many animals live in the mountains and surrounding woods. When you're packing food in, you'll need a way to keeping it out of their hands and jaws. Never to store food in your tent, not even a toothbrush. Instead, bring a long rope and hang your food from a tree between 12 to 15 feet above the ground, out on a limb, and anchor the rope to the tree's trunk. This should ensure no critters end up eating your food supplies. If you're staying in a campground, you may have bear lockers available for use.