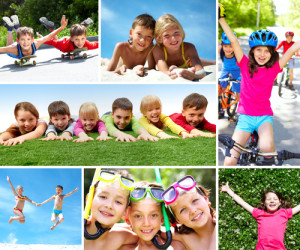 It's barely the end of January, so why are you already worrying about the summer? Because you're a parent, that's why. You know that unless you have a plan, summer vacation can quickly slide from sweet freedom to the depths of boredom. The Boy Scouts may claim it as its motto, but "be prepared" is the original parent motto, and it is never more applicable than during those three months in the middle of the year.
That's not to say that every minute of every day needs to be filled with a planned activity, though. In fact, unscheduled playtime is one of the joys of summer. But putting together a solid (yet flexible) plan now will help you avoid the question: "What's there to do today?" If you need some inspiration, here are four ideas to get your family started on the right path to a successful and boredom-free summer.
Make a Summer To-Do List
A good place to start with your summer plan is to have your children make a to-do list. It doesn't need to be detailed or long, but it should include a few big goals (learn to swim, work on drawing animals, make a new friend, go camping) that will help focus you and your kids when it comes to brainstorming fun summer activities. If one of their goals is to work on drawing animals, look into a drawing class, take a trip to the zoo or a local farm to sketch and set aside time for free drawing. At the end of the summer, it will be fun to go back to the list and see what they've accomplished.
Learn a Skill
This tip will differ wildly depending on your kids, but sit down with them and figure out one thing they'd like to learn over the summer. It doesn't necessarily have to be academic, either. With the rise of kids cooking shows, maybe Jackson is dying to learn how to make a soufflé. If so, help him research the necessary supplies, take a trip to pick out ingredients and tools, find cooking videos, and cook together. To show off his new skill, host a dinner party or let him go to a cooking camp.
Perhaps this is the summer you finally let Anna try her hand at skateboarding. Together you can browse an online resource like CCS to arm her with the necessary equipment, including the skateboard, pads, helmet and shoes. Then, spend the summer checking out local skate parks, taking lessons, attending professional skateboard competitions and, on rainy days, watching instructional videos.
Take a Hike
Research from the University of Illinois shows that kids' stress levels go down automatically when they are in nature, so make it a priority to get your kids outdoors regularly over the summer. Hiking doesn't have to mean climbing mountains, rather it can be a stroll on a local nature trail. Research your local park system, and explore what your area has to offer over the summer. If your kids enjoy the outdoors, try an overnight camping trip at a nearby campground. Camping comes with many skills you can learn together, including pitching a tent, building a campfire and learning how to plan a camping menu.
Find a Reading Program
A great way to keep your kids reading over the summer is to sign up for a reading program. There are national programs that reward kids of all ages and reading levels for reading books. Additionally, many local libraries host summer reading programs. Research a few and find one that appeals to your kids, or start one within your neighborhood with incentives to encourage even the most reluctant readers.