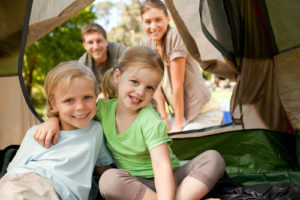 Decided it's time to start camping with your kids? Kids learn everything from enjoying and studying nature to how to climb a tree or catch a fish. Here's a guide full of tips, from pre-planning to having fun at the campground, that will make your first camping trip a memorable experience.
Before the Trip
Talk to other parents: You'll be surprised how much stuff you can bring camping. Camping for the first time is a lot like having your first baby – you can find yourself with more stuff than you need. Talk to other parents about the gear they find indispensable and the items they find they rarely use. Also get recommendations on campgrounds that have plenty of activities and space for kids.
Do a trial run: If you aren't sure how your kids will take to camping, practice camping in your backyard or at a nearby campground. This way you can test whether or not you brought what you need (and run home to get whatever is missing, if need be). It's also a way to test how your kids do sleeping somewhere unfamiliar.
Decide what kind of camping your family most enjoys: Do you have trepidation about sleeping on the ground? Consider whether a tent trailer or small hard-sided trailer is the right option for you or if you would rather be closer to mother nature and have more campground choices at your disposal via tent camping. Some families start with tent camping because of the lower cost of entry and find that they love it so much they upgrade to a trailer later.
Preparing for the Trip
Camping is the most fun when kids can bring a friend, when you camp with another family, or when you stay at campgrounds that have a large draw for families.
Babies and Toddlers:
Pack lots of options, including all the messy toys you don't like in your home. Allow kids to get involved in choosing their favorite toys, especially ones that help them feel at ease. Playdoh, water toys, squirt guns, finger painting, and nature crafts are fun for little tots. Sand buckets, shovels and other beach gear is useful even in a forest.
Bring a small inflatable pool if you are at a site that supplies utilities. Be sure and pack your own garden hose so you can be sure to set the pool up in a flat, sunny, location.
Elementary-age:
Bikes are a must for this age. Campgrounds have little traffic and bikes are an easy way for kids to get between campsites, down to the beach or just ride around. Be sure and bring helmets and refresh them on rules about biking safety before you set them loose.
Also a must are outdoor toys that allow for adventure such as kites, Frisbees and other flying toys such as footballs.
Classic outdoor games are just more fun when played at a campground. Purchase an inexpensive set of horseshoes, bocce ball, croquet, Frisbee golf, or make your own ladder ball game that easily disassembles and stores for suture outings. Remember Capture the Flag?
Preteens and Teens:
Older kids will want to amplify their outdoor adventures using a set of airsoft guns and air pistols. Set them loose in the woods (after a safety discussion, of course).
This age group might also enjoy canoeing, kayaking, stand up paddle boarding (rent these before you go, perfect for lake destinations), and skateboarding.
Also consider geocashing, a GPS-powered treasure hunt. Look for campgrounds that have a cache for your teens to find.
At the Campground
Camping is all about family time and learning about the outdoors. Wherever you camp, look for opportunities to:
Hike
Fish
Talk to a park ranger
Pick or observe flowers
Play card and board games
Whittle
Collect firewood
Observe the animals that visit the site or trails
Swim
Collect leaves and rocks
Collect bugs
Have a scavenger hunt
Stargaze
Tell campfire stories
Sing songs
Roast marshmallows, hot dogs, and make s'mores
Then, as night falls, give each kid a light up glow stick, easily found at a local dollar store. For school age and older kids, define boundaries using several empty sites or other open spaces to play "Zombie Mom/Dad," a game where one adult hides and the kids try to find the adult before the adult sneaks up on them. Kids love running around in the dark and you might even exhaust them enough to allow some downtime for just for you, relaxing in front of the campfire.