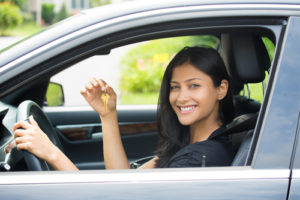 It may be hard to believe, but that former toddler who cried when you walked out the door at preschool is about to graduate from college. To help mark this major milestone, you want to give your grad-to-be a shiny, new car. While you want the vehicle to be as safe and reliable as possible, you also want it to be gentle on your wallet. Fortunately, there are plenty of cars that fit both of these descriptions and also look great.
First, a few words about where to shop. When looking for a car for your college graduate, you have plenty of options beyond Craigslist and nearby dealerships. Certain cities across the country are well-known for having a great selection of pre-owned vehicles, and if you can swing a short vacation there, it can end up saving you a lot of money. As DriveTime notes, Phoenix is one of the better used-car markets in the country. As a bonus, with the weather heating up in the Valley of the Sun, hotel room rates are dropping, so it can be an affordable way to find a car for your graduate. Now, onto the vehicles:
Nissan Versa Note S
The $15,000 price tag on the Nissan Versa Note S hatchback makes this a very appealing car for parents who are footing the bill. The four-cylinder engine and manual transmission can handle traffic with ease, and the 30 mpg estimated fuel economy rating will be gentle on your grad's wallet, too.
The Versa also features a three-year, 36,000-mile limited vehicle coverage warranty and a five-year, 60,000-mile limited power-train coverage warranty. In addition, this model comes with features associated with spendier cars, including a stereo system with a CD player, power windows and locks, and a safe vehicle dynamic control with traction control system.
Hyundai Accent
The Hyundai Accent is also ideal for price-conscious parents who want to buy their college graduate a great-quality vehicle. Its sub-$11K price tag for a new model is definitely appealing, and the car's sleek style and generous warranties will help keep expenses at a minimum.
Honda Fit
The 2015 Honda Fit LX hatchback is priced at around $16,400 and features a four-cylinder engine and six-speed manual transmission, plus a great fuel rating of 32 mpg. Hondas are also well-known for their ability to last a lifetime. As long as your grad takes it in for routine maintenance and puts fresh tires and oil in it as needed, they should have the car for decades.
Kia Soul
This cute, bread-box-looking car is also nicely affordable. With an MSRP of $13,995, the Kia Soul also offers customization options, like stripe packages, body kits and custom wheels. The 10-year, 100,000-mile power-train warranty and five-year, 60,000-mile basic warranty will put your mind at ease, knowing your young adult is driving a quality car requiring a minimal amount of money for repairs. The Soul also boasts an impressive amount of cargo space, which is ideal for new grads who are moving into a new place.
Toyota RAV4
For around $15K, you can find pre-owned Toyota RAV4s that are just a few years old and have plenty of miles left in them. Like Honda, Toyota builds cars meant to last, so you can be confident a used model will still be a safe option. Plus, this small-size, easy-to-maneuver SUV comes with a four-cylinder or six-cylinder engine and plenty of cargo space.