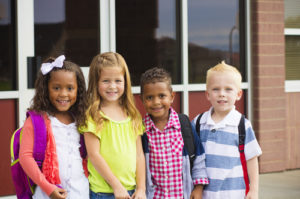 While some kids breeze through moves and switching to a new school, others find the entire process to be extremely stressful. Fortunately, if you are relocating to a new city or state and you have school-aged children, there are plenty of things you can do to help the transition go as smoothly as possible.
Check out the new neighborhood online
A great way to familiarize your kids with your new neighborhood and their new schools is to spend time online checking things out. For example, if you are moving to New York City or another huge metropolis, search for your new home or apartment online through a website like ForRent.com; the site includes lots of photos of the available properties and looking at them online with you will help your children feel more connected to their new city and home. Then, once you choose a new place to live, look up the neighborhood schools and take an online tour; most school districts have websites with photos of the buildings, playgrounds and teachers.
Make some practice runs
Once you move to your new home, be sure you take some time prior to your kids' first day of school to make sure everyone knows what to do and where to go. If your fourth grader is riding her bike to school, take at least a couple of practice trips with her and help her find the bike rack. If your middle schooler is taking the bus, walk to the bus stop together so he will easily find it on the first day. If you can possibly arrange for your kids—especially the younger ones—to get a tour of the school ahead of time and meet their teacher, this will also help them have a smoother transition.
Encourage them to sign up for activities
Signing up for one or two extra-curricular activities is a great way for tweens and teens to feel connected to their new school. It is also a wonderful chance to meet kids with similar interests. If your daughter played soccer at her old school and loved it, see about signing her up at the new school. If your son lives and breathes LEGOs, inquire if the new school has an after-school LEGO club.
Be there to talk
Asking your children how they are feeling about the move and new school can help them air their emotions, and also give you some valuable insight about how they are doing. Ask what they are looking forward to and what they are worried about, and based on what they say, you can tailor your parental pep talks.
For instance, if your son frets about not making friends, you might remind him about how quickly he met new buddies at his old elementary school. Encourage him to stay in touch with his friends back home through FaceTime, emails, and old-fashioned letter writing. You might also visit the neighborhood park with him, and introduce yourselves to parents and kids who are there playing—they might attend the same school and this way, your kiddo can start the first day with at a new acquaintance. It's amazing how just one familiar face can help set your child's fears at ease as he transitions to the new school.