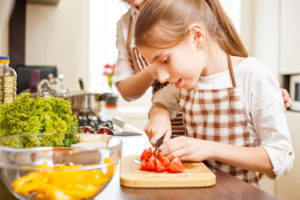 The summer months are some of the most beautiful and fun, but hot weather can be dangerous when it reaches its most extreme. So what can you do inside with the kids when it's too hot and humid to play in the sun? Here is a list of fun indoor activities that will keep the little ones engaged when it's too hot to go outside.
Indoor Adventures
No need to lose the adventurous mindset now that play has been limited to the indoors. Take your family to an indoor adventure center or theme park where your children can run around and blow off steam. Indoor water parks will keep your kids protected from the sun, while still allowing them to participate in aquatic activities. You can make an indoor water park excursion a day trip or a weekend activity, where you and the whole family can indulge in fun. Check out the Travel Channel's list of indoor water parks within the United States, to see which one is nearest to you.
Educational Activities
Even though your children aren't in school, education should still be on the summer agenda. Take your children to science and natural history museums, where they can engage in kid-friendly, hands-on learning with other kids. These establishments encourage inquiry-based learning, where kids learn how to take up their education in their own way. It is an excellent opportunity for your children to choose how and what they want to learn, which helps them better understand themselves and also develop good learning habits.
Art Appreciation
Immerse the kids in an artistic experience through an art museum day, city architecture tour or theatrical performance. Art museums are an opportunity for kids to develop art knowledge and develop dispositions of abstract thinking and openness toward novel aesthetics. You should also take your kids to a theatre performance, which is both fun and educational. If you live in NYC or planned a family trip there, take the kids to see some of Broadway's best plays and musicals.
Athletics
Take your kids indoors for athletic activities, like tennis, soccer, volleyball or basketball. Many of these sports may have their own indoor arenas and agencies, like a community tennis club or indoor soccer turf. If your community doesn't have designated space for indoor athletics, talk to the local schools or your city's parks and recreation department about using school gyms for sporting activities. You can utilize the recreational space for daily, impromptu athletics or you could also organize a community, sports tournament within the gym space, like a mini Olympics.
Culinary Creations
Let your kids get their hands a little dirty in the kitchen. Give them an opportunity to make their own food and create a meal for the family. This is a creative activity that is hands-on and will also educate your children about how to cook. With the overflow of processed foods in our diets, cooking is a great way for kids to connect with the food they eat and understand how it looks, smells and tastes in its natural form. For easy and healthy kid recipes, check out the Food Network website.