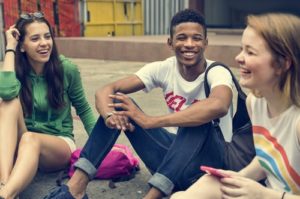 That little baby who you grew inside you for nine months is now a tall, active, chatty teenager who you can no longer hold on your lap, let alone lift. While it might be hard to believe it, your baby is definitely growing up, on his or her way to adulthood and independence.
Common and important rites of passage
As your teen gets older, there will be a number of milestones and rites of passage that he or she will go through. These transition points include learning to drive and getting a driver's license, getting a first car, having a first romance and graduating from high school. Depending on your teen's interests and your own situation, other rites of passage may include moving to a new school, trying out for a team or play, a first job and overnight school trips.
In order to help your teen make it through these transitions, and to help your son or daughter grow into adulthood as gracefully as possible, there are a number of things that you can do as a mom.Â
Be ready to listen—a lot
One of the best ways to help your teen get through the various milestones to adulthood is to tune into him as much as you can and recognize which transitions are especially meaningful. While teens are often stereotyped as moody beings who don't want to talk to their moms, this is not always the case. Be on the lookout for times when your teenager wants to unload and talk, and offer as much support as possible. Knowing that he has a loving and supportive parent who will be there no matter what will go a long way in helping your teen make it through the next several years. From hearing about first romances to worries about grades, friends who are acting mean and more, every time you make yourself available to your teen for a talk, you will encourage him to continue to communicate.
Offer tangible tools that promote knowledge
To help your teenager make it through the various milestones, it is important to also have some resources at your fingertips. Â A great example of this is when your teen is learning to drive; sit down with your driver-to-be and show her a website like DrivingTests.org that will teach both of you everything you need to know about becoming a licensed driver. If your teenager believes she has this whole learning-to-drive thing down pat, exposure to comprehensive resources like this may help her realize that she still has a lot to learn.Â
Celebrate the milestones in a personal way
In some families, a teen who has earned a driver's license is cause for a huge celebration. Others go all out when the teen graduates from high school or is going to her first prom. Recognize which milestones are especially meaningful for your teen and plan a family ritual around them; for example, when your daughter turns 16 treat her to a spa day and when your son gets his driver's license take him out to a dinner of his choice.
Let your heart guide you
It may be tempting to follow a close friend's or relative's advice on how to deal with an ever-changing teen. Rather than do this, follow your heart and gut in what is the "right†way to help your child. Let go now and then and recognize that you have raised a smart and caring teen who is making good decisions, and give her permission to choose his or her path in life.