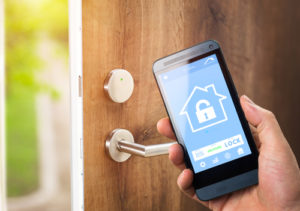 It is probably hard to believe that your baby is now old enough to stay at home alone. While you would prefer to be home with your teen at all times, your daily responsibilities take you away from time to time. The good news is that your teen has proven themselves to be trustworthy and responsible when they are at home alone — but this doesn't prevent you from worrying about them and their safety while you are gone.
Fortunately, there are a number of home security gadgets that will help give you peace of mind when you have to leave your ducklings all alone in the home pond. Here are a few to check out.
Wireless security cameras
A great way to add a layer of safety to the home is through wireless security cameras. Lorex Technology features a nice selection of wireless camera security systems that will help monitor what is going on outside of the home, day or night. One of the main benefits of a wireless security camera is flexible installation; you can place them higher or farther away from a digital video recorder without paying extra for more cables, and they can be placed in inconspicuous places that criminals are not as likely to notice. Lorex Technology offers wireless security cameras that have infrared night vision, motion detection, HD resolution and other features. You can also use the cameras to keep an electronic eye on your teens and their friends; for example, if they are hanging out on your back patio playing games on their phones, you can check on them through the wireless cameras from your smartphone or tablet while you are at work.
Video doorbell
When you were a kid, the only thing a doorbell could do was alert you that someone was at the door. Now, thanks to video doorbells like the state-of-the-art models from Ring, you can watch over your home when you are away and see, hear and talk to people who are on your front doorstep from your smartphone instead of having to answer the door. In addition, Ring offers instant mobile alerts, so you will be notified on your smartphone when someone is at the door. Ring also features infrared night vision and live view on-demand video and audio. Of course, if your teens are expecting friends to come over while you are gone, you can still allow them to safely open the door if the bell rings. But if you are working late and a stranger appears claiming to sell cleaning supplies, you can speak remotely and directly to the person and ask him to leave your property.
Smart padlock
If your teens will be coming home to an empty house while you are at work, you may worry that they will forget to lock the door. Thanks to the Kwikset SmartCode Touchscreen Electronic Deadbolt with SmartKey, your kids will be safely locked inside. The innovative lock offers keyless entry with a number pad, and its patented technology prevents code detection from fingerprints on the touchscreen. If you are concerned that your distracted kiddos will get in the house and forget to lock the door, you can set the device to automatically lock after 30 seconds.