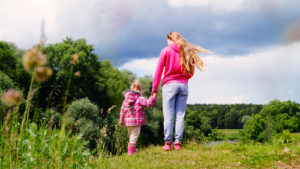 Kids and the outdoors used to go together like peanut butter and jelly. You may have fond childhood memories of spending time hiking with your friends and family, learning about the constellations by watching the starry sky at night and fishing with your parents.
Now, thanks to the popularity of electronics, kids are seemingly more interested in texting their friends or playing video games than getting outside and experiencing the beauty of the natural world.
There are a number of reasons to encourage your kiddos to spend time in nature. Being in the great outdoors is not only a wonderful way to breathe in some fresh air, recharge and relax — it also provides our children with life lessons that they can carry with them into adulthood.
Think Outside of the Box
There is nothing like a weekend spent camping in the wilderness to teach your kids some basic problem solving skills. For example, if, while you are out hiking, a raccoon runs off with some of your food, you and your kids will have to put your heads together and come up with a Plan B. Other examples include forgetting spare batteries for the flashlight or dealing with wet firewood. Instead of being frustrated with any seemingly negative turns of events, encourage your kids to come up with solutions that will not only get you through the next couple of nights of camping, but will also help them to deal with challenges in a positive way throughout their entire lives.
One quick tip about purchasing gear for camping — if you are concerned about the costs associated with buying a tent, warm sleeping bags and other necessary supplies, you might want to wait until after Thanksgiving to stock up on your gear during Black Friday and Cyber Monday sales. Many outdoor retailers are offering great Cyber Week deals on outdoor items including camping equipment.
Beauty Follows the Bad
Nature has a way of showing kids — and us moms too — that when negative things happen, it is usually followed by something positive. The morning fog that is threatening your day of fishing will lift, exposing the beautiful blue sky and sunshine. The huge rainstorm that you watched from your cabin in a national park finally ended with a massive rainbow. The blizzard that kept you off the slopes eventually stopped and you could hit the trails for a day of cross country skiing.
Your kids will undoubtedly face a number of challenges as they grow older. The lessons that they learn from Mother Nature will hopefully give them strength during these hard times, and remind them that the storm will eventually pass.
The Joys of Delayed Gratification
At home, when your kids are hungry, they can head to the fridge for a snack. If they have saved up their allowance for a new toy, they can — with your help — go to the local toy store and buy it. Their favorite movies and shows can be watched on demand and they can watch "A Charlie Brown Christmas" as many times as they want on DVD. All of these conveniences are nice, but they have largely eliminated the need to learn delayed gratification, which is an important skill to have as an adult.
Spending time in nature has a way of teaching kids that they will not always get what they want right away — sometimes they have to work for it, and that's a good thing. For example, if they want delicious fresh fish for dinner, they will have to spend at least part of the afternoon at the fishing hole. If they want to enjoy s'mores over a campfire, they have to hike into the woods and search for dry wood. Yes, this involves a lot of work, but the end result is really worth it.