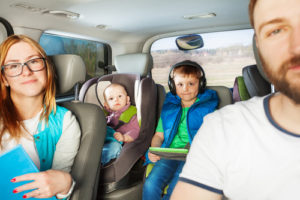 The holiday season is upon us, and grandma and grandpa are clamoring to see you and your kiddos. Plus, it doesn't hurt that you have some vacation time to use before year's end. These three facts can mean only one thing: it's time to plan an epic family road trip.
Of course, venturing out on the open road with your spouse and kiddos takes a lot more preparation than running errands around town. To be sure everyone is happy and occupied — and, most importantly, you make it to your destination safe and sound — check out these four tips to ensure a successful family road trip.
1. Give Your Vehicle a Thorough Checkup
Of course, ensuring your vehicle is ready for the open road should be your No. 1 priority. Thus, if your ride is due for some routine maintenance, make sure to schedule a time to get that done prior to your trip. And with winter weather right around the corner, make sure to ask for a cold weather tune-up that includes adding anti-freeze.
Additionally, carefully check your vehicle's tires prior to leaving; after all, you want to ensure they're in great condition to handle rain, snow and other extreme weather conditions. And if your tire treads are getting low and/or you spot any rot, make sure to replace them and splurge for tires that can handle any type of rough terrain and harsh weather conditions.
2. Fill a Backpack for Each Kiddo
When traveling long distances, keeping your children occupied and happy is the name of the game; after all, no one wants to hear the dreaded, "Are we there yet," question repeated 1,000 times. With that in mind, provide a backpack to your kiddos that's full of plenty of puzzles, games and portable entertainment systems to prevent boredom and whining.
As Travel Channel notes, work with your kids to determine which items they would enjoy for hours at a time and, more importantly, whether these necessities are suited for a vehicle. Some ideas include new coloring books (along with packs of crayons and pens), stickers, travel games, books and stuffed animals. But don't forget that beloved blankie.
3. Prepare Plenty of Snacks
To ward off hunger on the road, your family will need plenty of sustenance. Before departing, head to the grocery store and stock up on snacks that are reasonably healthy and not too messy to eat in the car. Some ideas include those ubiquitous yet tasty goldfish crackers, pretzels, granola bars, fruit leather bars, trail mix and plenty of juice boxes and bottled water.
You might also want to pack a small cooler with refrigerated snacks like hard boiled eggs, string cheese, rolled up slices of turkey and ham, grapes and apple slices. More importantly, if you have enough wholesome goodies in the car — and everyone can reach them — you may be able to avoid stopping at fast-food joints and convenience stores when hunger kicks in.
4. Go for the Gadgets
It's 2017, so your kids are likely experts when it comes to all things tech-related. But whether you allow your kids a certain amount of screen every day or try to limit their use altogether, road trips provide a perfect opportunity to bend the rules a bit. A smartphone, tablet and portable DVD player will likely be popular items to bring along — just make sure these electronics are fully charged for optimal use.
But to keep these gadgets running, particularly when you're in the middle of nowhere, make sure to invest in a portable car charger. Download some new apps, check out DVDs at the library, and let your kids enjoy their electronics — at least for a portion of your journey.
Thanks to these four tips, you and your family are more likely to arrive at your destination relaxed and refreshed, rather than frazzled and tired. Bon voyage!