Connect with Moms that matter with the latest book by Maria Bailey!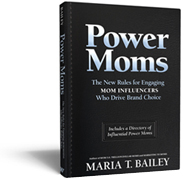 Word of Mom is the most powerful form of marketing for brands who want to connect with the $2.4 trillion Mom Market. The Power Moms- influential mothers who help spread the word about products and services- build brands and boast sales. Learn how to identify and engage this powerful group of consumers…
Examine how the sphere of influence of today's mom maven is transcending from virtual world to cyberspace and back

Engage moms who will drive sales to your bottom line by creating a buzz online and offline

Hear first hand from over 300 Power Moms on their rules of engagement with brands and how they spread the word about products they love

Empower yourself with access to the most influential moms in the US and around the globe with the directory of Power Moms

"Thanks to Maria, I have built one of the fastest growing franchises based on her teachings!"
-Lisa Druxman, Founder and CEO of Stroller Strides® Franchise
"Maria's creativity for engaging moms is passionate, instant, and real."
-Steven Betesh, President, Baby Brezza Enterprises
"For over a decade, Maria has been a trailblazer in the Mom Market and has empowered businesses who want to build sales and great Mom brands."
-Liz Lange, Fashion Designer and Shopafrolic.com Founder

About Author Maria Bailey
For more than a decade, Maria Bailey has educated CEOs, CMOs and Industry leaders on the consumer behaviors of mothers. She is internationally known for her insights, books, and award-winning marketing programs which engage and connect brands with moms. She was the first to quantify the trillion dollar spending power of U.S. Moms. She is the CEO of BSM Media, a marketing and media company specializing in the mom market. Over 8 million moms a month are entertained and informed by Maria via blogs, vlogs, podcasts, radio, Facebook, Twitter and magazines.
Maria has been featured in Business Week, USA Today, New York Times, BrandWeek and The Wall Street Journal. She has appeared on CNN, CNBC and The Today Show. To contact her visit www.marketingtomoms.com or www.bsmmedia.com or follow her on Twitter @MomTalkRadio.
To book Maria Bailey to speak at your next event, contact Laura@bsmmedia.com.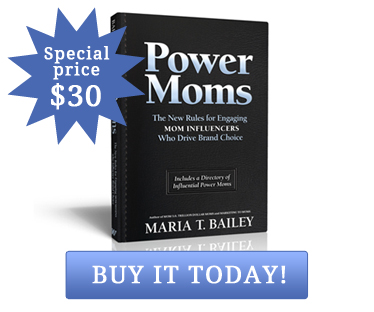 Price includes shipping!